What is Workers' Compensation? By Louisville Workers Comp Lawyer
Written by Cooper & Friedman on October 26, 2015
What is Workers' Compensation?
Workers' compensation is an insurance program paid for by employers in order to protect employees from the negative consequences of on-the-job injuries. Workers' compensation provides employees with a variety of benefits (including medical, rehab and income) if an employee is injured while working.
Though the type of insurance and injury sustained can change from employment to employee, there is a general structure to follow when it comes to understanding workers' compensation coverage.
The Office of Worker's Compensation Programs is established under the United States Department of Labor. This organization provides four different types of disability compensation programs as follows:
Wage replacement benefits
Medical treatment
Vocational rehabilitation
Other benefits
For most employees seeking workers' compensation, the benefits available range from disability insurance and weekly payments, to payments made to a worker's dependents if the worker was fatally injured while on the job. These forms of compensation act as insurance or benefits for those affected by serious injuries or death sustained while working.
Workers Compensation Coverage in Kentucky
In the State of Kentucky, Workers' Compensation must be available for all employees from their employers, even part-time employees. These employees must carry workers' compensation insurance or they must be self-insured. This act applies to every employee in Kentucky, except for those working strictly with agriculture. This act allows employees to refuse the right to workers' compensation, but they obtain the right to sue their employer.
To understand this act further, it is best to know what is considered a "work-related injury." Workers compensation benefits are only available for those that have sustained a "work-related" injury or one that "arises" out of or during the time of employment.
This can be furthered described by any injured sustained through a traumatic work-related event or series of events over the course of employment. Common examples of workplace injuries include injuries sustained from trips or falls on the job, injuries from repetitive movements required by certain jobs including heavy lifting, and injuries from exposures to harmful materials and chemicals.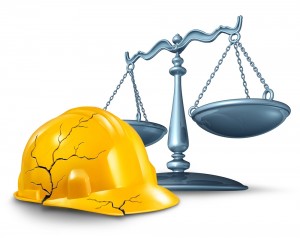 The law does not currently protect those harmed by the natural aging process or any psychological claims unless it also pertains to a physical injury.
The daily duties on the job that produce injuries are covered by workers' compensation. The irregular, after-hours and unexplained cases of workers' compensation claims can sometimes create more difficult and complicated cases.
If you have been injured while on the job or during the course of your employment, seek help. Always notify your boss or supervisor to any hazards or injuries sustained. An employer cannot fire an employee for filing a workers compensation claim. Find medical treatment immediately depending on the severity of your injury. Once you have been treated accordingly, begin the process of obtaining workers' compensation. This process does not have to be completed alone. Our lawyers at Cooper and Friedman are here to get you the help you deserve.
If you or someone you know has sustained a work-related injury and is suffering, get help from our team of qualified personal injury lawyers. Don't continue to work while in serious pain or continue to acquire debt because of medical bills from a workplace injury. Talk to one of our workers comp lawyers today and we can get you the help you need.