What is Pregnancy Discrimination?
Written by Cooper & Friedman PLLC on July 8, 2016
The United States Equal Employment Opportunity Commission defines pregnancy discrimination as the act of "treating a woman (an applicant or employee) unfavorably because of pregnancy, childbirth or a medical condition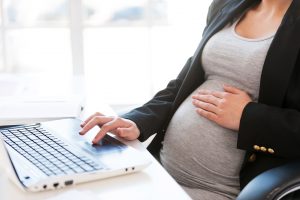 related to pregnancy or childbirth." The Pregnancy Discrimination Act (PDA) was created in 1978 to protect women from being discriminated against in any aspect of employment based on pregnancy.
This includes hiring, firing, pay, job assignments, benefits and much more.
Because of the PDA, which is an amendment to Title VII in the Civil Rights Act of 1964, it's illegal to treat pregnant women in the workforce differently from other employees. In certain situations, a pregnant woman or those that have recently given birth, may be temporarily unable to perform their job because of medical reasons. This situation should follow the same guidelines used for employees temporarily unable to perform their job due to a medical reason.
Pregnancy discrimination can be complex. It can be subtle and seem difficult to prove. Many pregnant women face pregnancy discrimination including harassment in the workplace because of their pregnancy. The PDA was designed to protect these women against any maltreatment and to defend their rights.
6 Facts About Pregnancy and Pregnancy Discrimination from the National Partnership for Women and Families:
Three-quarters of women entering the workforce will be pregnant and employed at some point in their careers.
Pregnancy discrimination cases are on the rise. Over the past decade, the rate of pregnancy discrimination charges has increased by 35%. In the fiscal year 2013, more than 5,300 pregnancy discrimination charges were filed.
In the lawsuit Wiseman V. Wal-Mart Stores Inc. a pregnant retail worker in Salina, Kansas, was fired because she needed to carry a water bottle to stay hydrated and prevent bladder infections.
UPS settled a pregnancy discrimination case that went all the way to the U.S. Supreme court. The Maryland woman, a former UPS truck driver, sued the company after UPS would not give her a less demanding shift when a medical provider ordered her to abstain from lifting heavy items during her pregnancy.
In 2011, the majority of women who gave birth in all 50 U.S. states were also in the workforce.
During an interview, you do not have to answer the question, "Are you pregnant?" or any question that pertains to this topic.
Women of all ages comprise an increasingly large percentage of the workforce. And all U.S. workers are covered by important laws that protect against different kinds of discrimination in the workplace. This includes pregnancy discrimination. Employers cannot refuse to hire a pregnant woman as long as she can do the primary functions of the work involved in the job.  And under the law, pregnant women cannot be punished, fired or harassed for their pregnancy.
Seeking Legal Help for Pregnancy Discrimination
If you or someone you love has been unfairly treated in the workforce due to pregnancy, there is legal help available. It's important to get help from a law firm that understands the details involved in pregnancy discrimination cases.
The attorneys at the Cooper and Friedman law firm in Louisville, Kentucky, have over 45 combined years of experience defending the rights of people facing workplace discrimination. They have an A+ BBB rating and are lifetime members of the Million Dollar Advocates Forum as part of the Top Trial Lawyers in America.
For a free legal consultation about your pregnancy discrimination case, call 502-459-7555 now.