Kids and Bicycle Safety 101
Written by Cooper & Friedman PLLC on June 30, 2017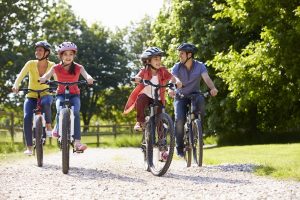 Summer is a great time to get out of the house and partake in outside activities. Many families with children enjoy having a picnic or playing catch in the park, as well as an ever popular activity – riding bikes. While these are fun and active ways to enjoy the outdoors, it is important to always remain vigilant and keep bicycle safety in mind, especially when riding bikes with kids. Riding a bicycle can be as dangerous as driving a vehicle and it is as important that riders of all ages pay attention to the traffic patterns and follow proper safety guidelines.
Bicycles are great for getting around town, getting exercise, and for personal enjoyment, however, bicycle safety becomes a major concern for novice bike riders. Safe Kids Worldwide, a global organization that works to prevent injuries and death in children, has reported some alarming statistics when it comes to young bicycle riders. According to Safe Kids, thousands of kids in the U.S. experience bicycle-related injuries every year.
As a parent or guardian of a young bicycle rider, it is important that you properly supervise and educate your child on bicycle safety while also role modeling the rules. Nothing sets a better example than participation in following safe cycling protocol. Make sure that your child is capable of riding his or her bike with ease before moving them to neighborhood streets or busy pathways. For young and old riders alike, it is important to always make sure that the tires, handlebars, and brakes on the bicycle are functioning properly.
The injury attorneys at Cooper and Friedman PLLC want you, and your children, to enjoy safe, relaxing bike rides this summer, so we have put together a list of five bicycle safety tips for your next ride!
Bicycle Safety 101
1. Always Wear a Helmet.
Before sitting on the bike seat, always remember to put on a helmet. This safety precaution may not be the most fashionable, but it is necessary when riding a bicycle. In the U.S. all helmets must meet the standards established by the Consumer Products Safety Commission. Here is a great set of guidelines to help you
find the correct fit for your or your child's head. Wearing a helmet is the only way to protect the head from a fall or crash while riding a bicycle. Don't forget this step. It is the easiest to follow and can save a life.
2. See and Be Seen.
It is recommended to ride only in the daylight with visible clothing. White clothing isn't always the most visible to others, try wearing neon or fluorescent clothing instead. If you plan riding alone or with your children at dusk or on a cloudy day, try and dress in reflective clothing. The use of blinking bike lights on the front and back of all bikes participating in the ride help to alert other cyclists and cars of your presence and is another way to be seen.
3. Be in Control of Your Bike.
Riding a bicycle can be a lot of fun. Just remember to remain in control of your bicycle, stay mindful of other's bicycles, and alert others of your movements. If you decide to turn onto another street or redirect your path, use proper hand signals to warn your riding group and others. When turning left, remove your left
hand from the handlebars and raise it perpendicular to your body. For a right turn, raise your left hand in the air with your elbow bent in a 90 degree angle. This will leave your hand pointed to the sky, in the shape of an "L."
4. Always Obey Traffic Laws.
Since bicycle riding is a lot like driving a vehicle, remember to ride with the traffic flow. Always pay attention and follow traffic signals, signs, and lane markings as well. When riding close to traffic, make sure to keep a safe distance between you and other drivers on the roadways. Make sure your movements are predictable and you are aware of your surroundings and look left, right, left before making a turn. If riding with small children on a road close to traffic, place them in the middle of the riders to protect them from traffic.
5. Avoid Road Hazards.
When choosing your bike route, make sure you select streets that remain clear of heavy traffic and always avoid construction sites at all costs. These areas often have broken glass, potholes, gravel, and leaves on the ground that could become a danger to you, your child, your bicycle, or your ride. If you come up on any of
these roadblocks, make a prepared stop or turn to avoid these hazards.
As a parent of a young rider, you should educate your children on the safety and rules of the road. This is important for their safety and enjoyment. It is safe to ride with your children until they get the hang of the neighborhood and roadways. Never let your child ride his or her bicycle without your knowledge and without a helmet. Always practice the same rules you enforce.
Unfortunately, regardless of all the safety measures and precautions you take, bicycle accidents do happen. If you or someone you love is ever the victim of a bicycle accident, contact an experienced injury law firm for guidance. Cooper and Friedman PLLC has over 45 combined years of experience defending the rights of injury victims across Kentucky and Southern, Indiana. For more information, or for a free legal consultation, give us a call now at 502-459-7555.