Who Is At Highest Risk For Elderly Abuse?
Written by Cooper & Friedman PLLC on April 15, 2016
Elderly abuse is an increasingly serious problem for seniors across the U.S. This type of abuse includes: physical, sexual, emotional and psychological mistreatment. Elderly abuse also includes neglect, abandonment and financial or material exploitation.
Adults aged 65 years and older represent 13 percent of the total population. And by 2050 this group will comprise about one-fifth of the entire U.S. population. With the growing population of aging adults, there is a greater need to protect this group of men and women.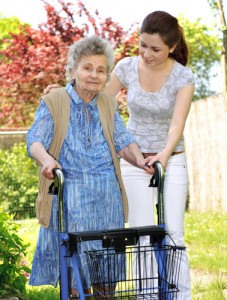 In a national study performed to identify the impact of elderly abuse in America, researchers concluded that a significant amount of elder abuse goes unreported. There are many reasons for this. Many seniors are dependent on family members to provide regular assistance. This dependency may serve as a major deterrent to a senior reporting an abusive relationship with a family member. Additionally, many have certain health conditions that may make them more frail and vulnerable to physical injury. Some are unknowing victims of abuse, especially in cases of financial abuse.
4 Groups at Highest Risk of Elderly Abuse
While all elders may suffer from abuse and neglect, certain seniors are at higher risk of mistreatment. This is due to a number of reasons including degree of frailty, level of social isolation, mental capabilities and more. Understanding those at highest risk for elder abuse is an important part of improving our ability of identifying and stopping elder abuse. Here are the 5 groups of elderly at heightened risk of abuse:
Elders with Disabilities: Out of the 43 million elderly Americans, 14 million of these men and women have some form of a physical or mental disability. Unfortunately, elders with disabilities may be more likely to fall victim to elder abuse and neglect. Family members, care providers and scammers take advantage of these individuals because of their disabilities.
Elders with Dementia: Out of 43 million elderly Americans over 5 million have dementia. This mental disease compromises a person's ability to perform many activities of daily living. Because of this impairment, many family members begin to take over finances and accounts. This creates a vulnerability to financial exploitation and mistreatment of personal affairs. A 2009 study published in the the British Medical Journal found that nearly 50 percent of people with dementia experience some form of abuse.
Socially Isolated Elders: A lot of elders that have experienced some form of abuse become scared, weak and isolated. In fact social withdrawal is one of the major signs of some kind of elder abuse or neglect. Social isolation may also put elders at higher risk of abuse, making them easier targets to hurt and manipulate.
Female Elders: Researchers have repeatedly found that female elders are abused more than males and this only increases with age. In fact estimates suggest that about 65% of all cases of elder abuse involve female victims.
Concerned About Nursing Home Abuse or Neglect? Contact an Experienced Elder Law Attorney
If you or someone you love has been the victim of some type of elderly abuse, there are legal protections in place to help you. In March 2010 the Elder Justice Act (EJA) was signed into law to address elder abuse and neglect. This is considered some of the most important legislation to protect seniors from exploitation.
There are several ways to end the cycle of elderly abuse for your family members and those in your community. If you are are concerned about senior family members or friends, take the time to pay attention to changes in their physical appearance and behavior. If your loved one becomes depressed, scared or anxious, don't hesitate to get them help. Also, if you think your loved one is experiencing some form of abuse, make sure to notify authorities. Cooper and Friedman handles elder abuse cases and is available to provide assistance for you and your loved ones. For more info, or a free case consultation, call 502-459-7555 to get the help you deserve.