Electric Scooter Safety: Who Is At Fault When An Injury Occurs?
Written by Cooper and Friedman on September 26, 2019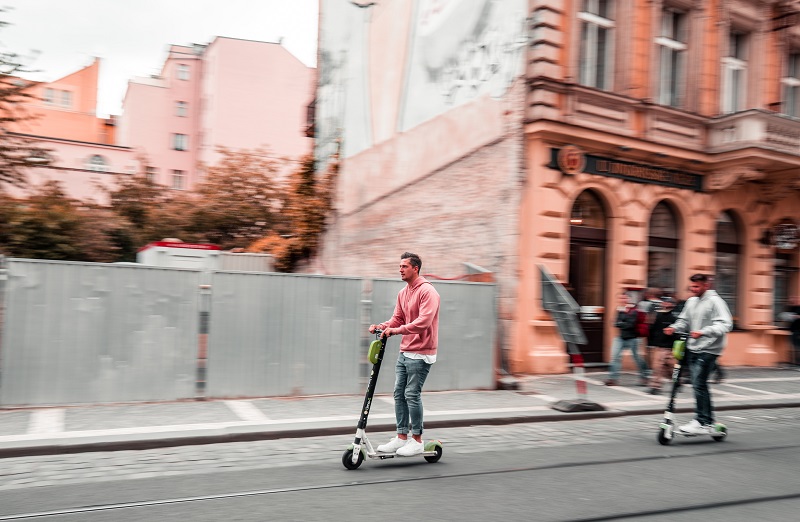 Since the second half of 2017, electric scooters have been parked on street corners and available for commuters in major U.S. cities. The benefits of inner-city commuters using electric scooters to get from Point A to Point B seem endless and obvious.  Scooters, such as the popular Bird and Lime brands, are zero-emission vehicles. On top of being good for the environment, electric scooters allow users a new way to experience their city. They also operate on a gig economy making it possible for nearby residents to earn income for recharging the scooters in their homes.
With multiple benefits, electric scooters have been quickly embraced right here in Louisville, Kentucky. However, over the last two years, more and more concerns around electric scooter safety have been raised. And now some city governments are going as far as working against companies like Lime and Bird to get scooters off their city's streets.
Before hopping on your next electric scooter, there are quite a few things to be aware of including:
What requirements each rider must meet to operate the electric scooter without breaking company rules.
Which street rules riders must follow in order to safely operate a scooter among other road-ready vehicles such as cars, bicycles, and motorcycles.
Who is at fault and responsible when an accident or injury occurs while riding an electric scooter.
Rider Requirements to Ensure Electric Scooter Safety
All rideshare companies operating electric scooters have a set of rules pertaining to operators outlined in their user agreements. Both Bird and Lime, as close competitors, have similar rule sets. Both electric scooter companies require riders to be 18+ if they are riding without permission from a parent or guardian. Minors 16+ can ride both scooter brands if a parent or legal guardian approves and takes all legal responsibility for an accident. Both scooter companies allow only one rider per vehicle to ensure electric scooter safety.
Additional rider requirements set by both companies to ensure electric scooter safety include:
Operating electric scooters in bike lanes or on roads shared with vehicles. Bird and Lime both explicitly state that riding electric scooters on sidewalks is forbidden unless permitted by the city the operator is riding in.
Carrying briefcases, backpacks, or bags that impede operating the chosen electric scooter safely is forbidden.
Riding an electric scooter while under the influence of drugs or alcohol is strictly forbidden by both Bird and Lime.
Using a locking mechanism besides what is built into the scooter is not allowed by either Bird or Lime as it impedes the sharing aspect of their rideshare initiatives.
Keeping electric scooter company's safety policies in mind will help to ensure safe delivery from Point A to Point B. However, there is more to consider before getting on your next electric scooter including what road rules to follow.
Practicing Electric Scooter Safety on Roads Shared with Motor Vehicles
Following the rules of operation outlined by Lime and Bird when operating their scooters isn't the only element of electric scooter safety. Riding scooters in the specified street areas is a rule that must be followed. When scooter operators ride on sidewalks, they not only endanger themselves but also put pedestrians at risk.
Both companies also require that scooter operators follow all traffic rules including street lights and street signs. Lime and Bird both emphasize being aware of surroundings and exercising additional caution at crosswalks. Helmets are also required to operate Bird or Lime scooters; however, that rule is rarely followed and hard for companies to track.
Lime offers a friendly user guide for electric scooter safety on their website. Bird has a Safety Report that highlights what riders and cities alike can do to ensure electric scooter safety. Despite taking safety measures on your next scooter ride, and being aware of road rules, accidents can happen. What do you do when an accident occurs on an electric scooter? And who is responsible?
When An Injury or Accident Occurs Despite Electric Scooter Safety
As electric scooter uses rise, so do cases of injuries and accidents that are caused by electric scooters. Lime and Bird have both done a very good job of covering their bases when it comes to who is responsible in case of an electric scooter accident.
In Lime's User Agreement, they state "To the fullest extent permitted by applicable law and without limiting anything else in this Agreement, Lime reserves the right to hold You fully responsible for all damage, losses, claims and liability arising from Your use of any Vehicle, including, without limitation: (a) physical or mechanical damage; (b) loss due to theft; (c) physical damage resulting from vandalism; (d) bodily injury of You or a third party; (e) third party claims; (f) actual charges for towing, storage and/or impound fees paid by Lime; and (g) administrative charges, including the cost of appraisal and other costs and expenses incident to the damage or loss."
Bird's User Agreement goes even further to release themselves from any liability, stating:
"In exchange for Rider being allowed to use Bird Services, Vehicles, and other equipment or related information provided by Bird, Rider agrees to fully release, indemnify, and hold harmless Bird and all of its owners, managers, affiliates, employees, contractors, officers, directors, shareholders, agents, representatives, successors, assigns, and to the fullest extent permitted by law any Municipality (including its elected and appointed officials, officers, employees, agents, contractors, and volunteers) in which Rider utilizes Bird Services, and every property owner or operator with whom Bird has contracted to operate Bird Services and all of such parties' owners, managers, affiliates, employees, contractors, officers, directors, shareholders, agents, representatives, successors, and assigns (collectively, the 'Released Persons') from liability for all 'Claims' arising out of or in any way related to Rider's use of the Bird Services, Vehicles, or related equipment, including, but not limited to, those Claims based on Released Persons' alleged negligence, breach of contract, and/or breach of express or implied warranty, except for Claims based on Released Persons' gross negligence or willful misconduct. Such released are intended to be general and complete releases of all Claims.
'Claims' means, collectively, any and all claims, injuries, demands, liabilities, disputes, causes of action (including statutory, contract, negligence, or other tort theories), proceedings, obligations, debts, liens, fines, charges, penalties, contracts, promises, costs, expenses (including attorney's fees, whether incurred at trial, on appeal, or otherwise), damages (including but not limited to, for personal injury, wrongful death, property damage, and injury to [the] rider or to third parties, consequential, compensatory, or punitive damages), or losses (whether known, unknown, asserted, unasserted, fixed, conditional, or contingent) that arise from or relate to (a) any of the Bird Services, including any of the Vehicles, placement, equipment, maintenance, related information, this agreement or (b) Rider's use of any of the foregoing."
Despite the legal jargon that appears to cover all the liability bases for both Lime and Bird, each circumstance of injury or accident is unique. There may still be something an experienced team of lawyers can do to help. If you have been involved in an electric scooter accident despite practicing electric scooter safety, contact Cooper and Friedman today. We have over 45 years of combined experience with personal injury cases. We offer free 15-minute consultations, so please contact our offices today by calling 502-459-7555.