Workplace Harassment and Bullying: What Is It and What To Do About It
Written by Cooper and Friedman on January 22, 2018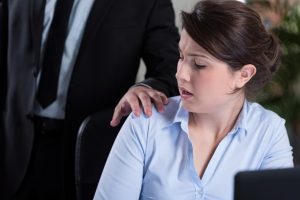 In October 2017, The New York Times published an article detailing film producer Harvey Weinstein's harassment of Hollywood actresses. After that initial story broke out, the floodgates opened. Sexual harassment in the workplace became a hot button topic all over the world, sparking discussions and think pieces galore.
But it's not just sexual harassment– bullying in the workplace is just as serious a problem. Bullying is defined as aggressive behavior that is intentional and also involves an imbalance of power. Most often, it is repeated over time.Forbes claims upwards of 75% of people in the workplace are affected by bullying. Tactics range from derogatory comments to verbal threats and can even be as serious as physical abuse. Those being bullied experience a loss of confidence, depression, anxiety, and even physical illness.
Quitting or transferring to another department is not an option for most people dealing with harassment or bullying. In fact, abuse can even continue if the person being harassed leaves. They may still find themselves dealing with the abuser throughout the reference checking process for a new position considering that supervisors and managers are the most common offenders.
So what should you do if you find yourself in one of these difficult situations? How should you react to workplace harassment and bullying?
The first course of action should be to speak directly to the bully or harasser if you think there is a resolvable issue behind their actions. Your human resources department should be able to provide a mediator if you think that would help with discussions. However, if your concerns are ignored or are not being addressed in a satisfactory manner, more assertive action may be required.
A cease and desist letter is a legally enforceable order directing a person to stop engaging in a particular activity– for instance, harassment or bullying. A cease and desist letter lets your harasser know their behavior is unacceptable. Further action can be taken if necessary. Of course, in order for this letter to work, the perpetrator's actions must fall outside of their legal rights. Consulting with an attorney who understands workplace harassment can help you determine if a cease and desist letter is the appropriate course of action for your case and help you draft one out if you determine that it is.
If you or someone you love is a victim of workplace harassment in Kentucky or Southern Indiana, contact us today. Our experienced attorneys provide free consultations about possible workplace harassment cases. For additional info, or to schedule your free consultation with an experienced Cooper and Friedman attorney, call 502-459-7555 now.