Indiana Workers' Compensation Law: 5 Things To Know
Written by Cooper and Friedman on November 21, 2017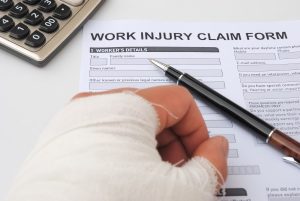 Indiana borders the Commonwealth of Kentucky to the north and from Louisville, you can see Southern Indiana across the Ohio River. The close proximity of the two states results in a lot of citizens commuting across the river for work. If you are in this situation, you need to ask yourself an important question. Do you know the workers' compensation laws in the state where you work? Indiana workers' compensation law differ from the laws established in Kentucky. To learn more about what workers' compensation coverage exists in Kentucky, click here. Otherwise, follow along to learn five important things to know about Indiana workers' compensation law.
According to the Indiana government, workers' compensation is an insurance program that is provided by an employer when an accident occurs. Under Indiana workers' compensation law, an employer is required to provide medical attention, rehabilitation (if necessary), and supplemental income when an injury occurs on the job. Indiana workers' compensation law also states that there is no qualifying period and you are covered under workers' compensation from day one of the job. Knowing that you are covered from the beginning and that workers' compensation exists in Indiana is great knowledge to have. However, what do you need to know if you are injured?
5 Things to Know About Indiana Workers' Compensation Law
1. How Long Do I Have to Report an Accident?
When an accident occurs at the workplace while you are on the clock, it is crucial to report it to your employer as soon as possible. No matter the size and severity of the accident, your employer should be made aware of the occurrence as soon as possible. Whether you are considering filing a workers' compensation claim or not, do not wait to report an accident and do not leave the scene of the accident before notifying your employer. If you are considering filing a claim for workers' compensation and you wait 30 days or more to notify your employer of your injury and the accident, your claim has the possibility of being denied.
2. What are the Terms Concerning Compensation?
Compensation will be rewarded if you cannot get back to work 7 days after the incident. Compensation comes in the form of weekly benefit checks. You can expect to receive the first one 15 days after the day of the accident. Until you've been out of work for 3 weeks, including weekends, you won't receive pay for the first week. When you receive your benefits, you can expect the amount to be two-thirds of your average wage per week. Why only two-thirds? This is because workers' compensation is not taxable, so the amount is prorated to cover taxes without being taxed.
3. Are There Any Restrictions I Should Be Aware Of?
Workers' compensation laws vary state-by-state and the most common variations come in the form of restrictions. For instance, in Kentucky, employees injured on the job are able to choose their own physician when receiving medical treatment. In Indiana, though, the employer is the one who makes all of the medical care decisions. Another restriction that you should be aware of is that you cannot collect both workers' compensation and unemployment benefits simultaneously.
4. Can My Employer Fire Me for Filing a Workers' Compensation Claim?
Under Indiana workers' compensation law, you are protected from being fired for filing a workers' compensation claim. This same law protects witnesses at the scene of the accident. While you can't be fired for filing a claim, you can be fired for being unable to work. This is due to Indiana being an at-will employment state. What does that exactly mean? That except for a handful of reasons an employee can be fired at any time the employer wants.
5. Is A Workers' Compensation Attorney Necessary?
The area of law that concerns workers' compensation tends to be complicated and confusing. This is especially true if your claim has been denied, you are disputing the claim, or feel that you've been wronged. We recommend that you do hire an experienced workers compensation attorney before finding yourself overwhelmed with workers' compensation related legal tasks.
If you've found yourself in a situation where you're filing for workers' compensation, you are most likely stressed out and in need of help. While the Indiana government has helpful information on their website, sometimes the best help is in the form of an experience attorney with a background in workers' compensation.
If you live and work in Southern Indiana, or commute from Kentucky to Indiana for work, and have been the victim of a workplace accident, contact us today. The Cooper and Friedman Law Office has over 50 years combined experience providing legal advice to injured employees. Call us at 502-459-7555 or contact us online for a free case consultation.